So, as you all have probably already noticed, this girl is taking over Hollywood real fast!
She has already done comedy, drama, horror, fantasy...
And she has already had the great honor of working with one of the most amazing and cherished actors of all times: the one and only Johnny Depp!!!
And she's only 16!
Anyways, Miss Chloë Mortez is not only a great and very lucky young actress, she's also a fashionista!
Her red carpet looks are always classy, elegant and feminine, and her everyday looks are always simple and comfy, with a lot of style!
Now, come on! Would you like to be able to get her look?
The sweet, romantic, flirty night girl and the simple, effortlessly beautiful, comfy day girl?
Of course you do!
Well, guess what! I'm on it!!
I'm going to show you two outfits of this rising star (a casual look and a red carpet look) and tell you where to find similar pieces so you can recreate them!
Ready? Let's go!
Comfy Casual With A Fun Pop
Well, this is what I call shopping in style! She's comfortable and simple, but the neon pink shirt gives her look a pop of Springness!
This a really nice outfit to wear when you go shopping, on a plane ride or on a "I don't care about what I'm wearing today but I'm still looking good" day at school. Because let's face it: we all have those days!
Start by finding a nice pair of dark wash jeans, like these from Forever21
Then, get your pop of color with a simple neon pink shirt with long sleeves, like this one from Old Navy.
Next, trow on a nice black leather jacket, like this one from Windsor.
For your feet, choose something comfortable but cute, like these grey boot on Farfetch.
To finish off the look, all you gotta do is find a cute grey bag (like this one from Tilly's) and a nice pair of big sunglasses (like these from Forever21). And you're done!
Fun And Flirty Vampire

Sorry guys, but I totally had to call this a vampire look!

Not just because she wore it at the European premiere of Dark Shadows, but also because it is an outfit I'm expecting to see Rosalie Cullen wearing!
I love the oxblood dress, and the lace gives it a sexy feel. The shoes complement the outfit perfectly, and the belt is a great touch!
If you have an elegant party to attend, this is a great look for it!
Start by finding the right dress. I couldn't find one that was similar to Chloë's, so I have some options. Her dress is in a red velvet material and has lace details. So I have three options for you: a lacy dress with cut outs (Nelly.com); a velvet dress, also with cut outs and a detailed back (Misskl); and another velvet dress with a different silhouette, a see through material on the neck and shoulders, some stud details and a zipper on the back (Topshop).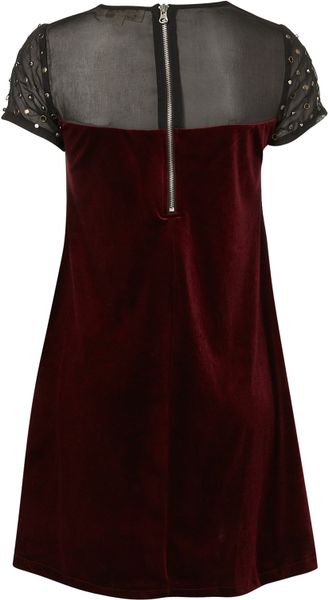 She use a black and gold belt with a chain detail on her waist. The closest thing I found was this one from Topshop.
And last, but certainly not least, the shoes! Your shoes will depend on the dress you choose, obviously. Unless you're like me and choose the shoes first... haha! I have some options for you (the first ones are from Kohl's, the second ones from New Look and the last two pairs are from Heels.com) that would suit some of the dresses above.
And that's it guys!

Now you can go out in your Chloë Grace Moretz inspired outfits!


Which other celebrities should a do a "Dress Like..." post about?
Let me know on the comments!!