Hey guys!
So, recently I went to the Justin Bieber's concert, on the 11th of March, here in Lisbon.
The show was amazing, super fun and with lots and lots of dancing included!
I knew that I was going to be hot inside, but I also knew that it was going to be really cold outside!
How to join heat and cool in one outfit so you won't suffocate or freeze, and look cute at the same time?
Don't worry! I got your back!
Here's my idea:
Start a simple black or white top with spaghetti straps, like this one from Forever21.
Then, choose some kind of sheer lightweight blouse with a fun collar, like this one from Target. These two pieces are the ones you're going to be wearing when you're dancing and having fun at the show, so remember to be sure they're soft and light.
Over that, wear a nice sweater (because there's going to be a moment when it is going to be too hot to wear a jacket, but still too cold to be only with your top and sheer blouse). Try something like this black and white sweater with polka dots from Forever21. I would recommend doing the same as the model on the pic and letting the collar of the blouse show. It looks much better! You can also tuck in the end of the blouse in your bottoms, or leave it like the model has it.
To finish off the top half of the outfit, you'll need a jacket. Try something like this really cool Moto Jacket from Nasty Gal.
For bottoms, as your top half is pretty dark looking, with all the dark blue and black, I recommend going for something bright and fun, in a color that suits the ones you're already using. A pair of bright neon pants, like these pink neon skinny jeans from ONLY.
For shoes, comfort over all! So, personally, I would simply go for a pair of black and white Converse sneakers (high or low tops, that's your choice).
For accessories and makeup, I recommend bringing a cross body bag (Charlotte Russe) and makeup that's long lasting and waterproof (Essence's Long Lasting Eye Pencil in Hot Chocolate; Maybelline The Falsies Falred Waterproof Mascara; MAC's Pro Longwear Lipglass in Whoops!).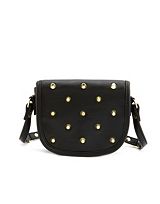 And that's it! Now you ready to rock on!!
Hope you enjoyed the post!
Do you like the outfit?
Would you change anything about it? If yes, what?
What was the best concert you ever went to?
Thanks for tuning in!
Follow me on twitter (
http://twitter.com/#!/Ella9999
), check my other blogs (
http://sometimesinalifeofateenagegirl.blogspot.pt/
and
http://ellasblogaetc.blogspot.pt/
) and my YouTube channel (
http://www.youtube.com/user/Ella99997/videos
)!
Hearts Hugs and Kisses
With love,
Ella<3